Why PM Scheduler ?
Adapt to DYNAMIC demand, improve PLANNING efficiency and save TIME spent in manual scheduling & rescheduling process
Take well-informed DECISIONS based on gross CAPACITY evaluation and streamline production plan release on the SHOP-FLOOR
Review status of OPERATIONS and enhance your customer response by real-time TRACEABILITY on our MOBILE app
Increase PROFIT by optimising lead times and improving OTD
Benefits
GET VISIBILITY

GET VISIBILITY to track job cards on the shop floor through the operation route along with it's current status. Get Real Time excel based MIS reports & comprehensive Mobile app.

RESCHEDULING

RESCHEDULE orders and get revised schedules based on changes in order priority & customer demand.

IMPROVE ON-TIME DELIVERY (OTD)

IMPROVE ON-TIME DELIVERY (OTD) through efficient planning and scheduling of orders by considering most of the constraints of production like machine capacity material

COORDINATION & COLLABORATION

COORDINATION & COLLABORATION between Production , Quality, Purchase & Sales teams on the basis of realistic and achievable schedules and plans.
Features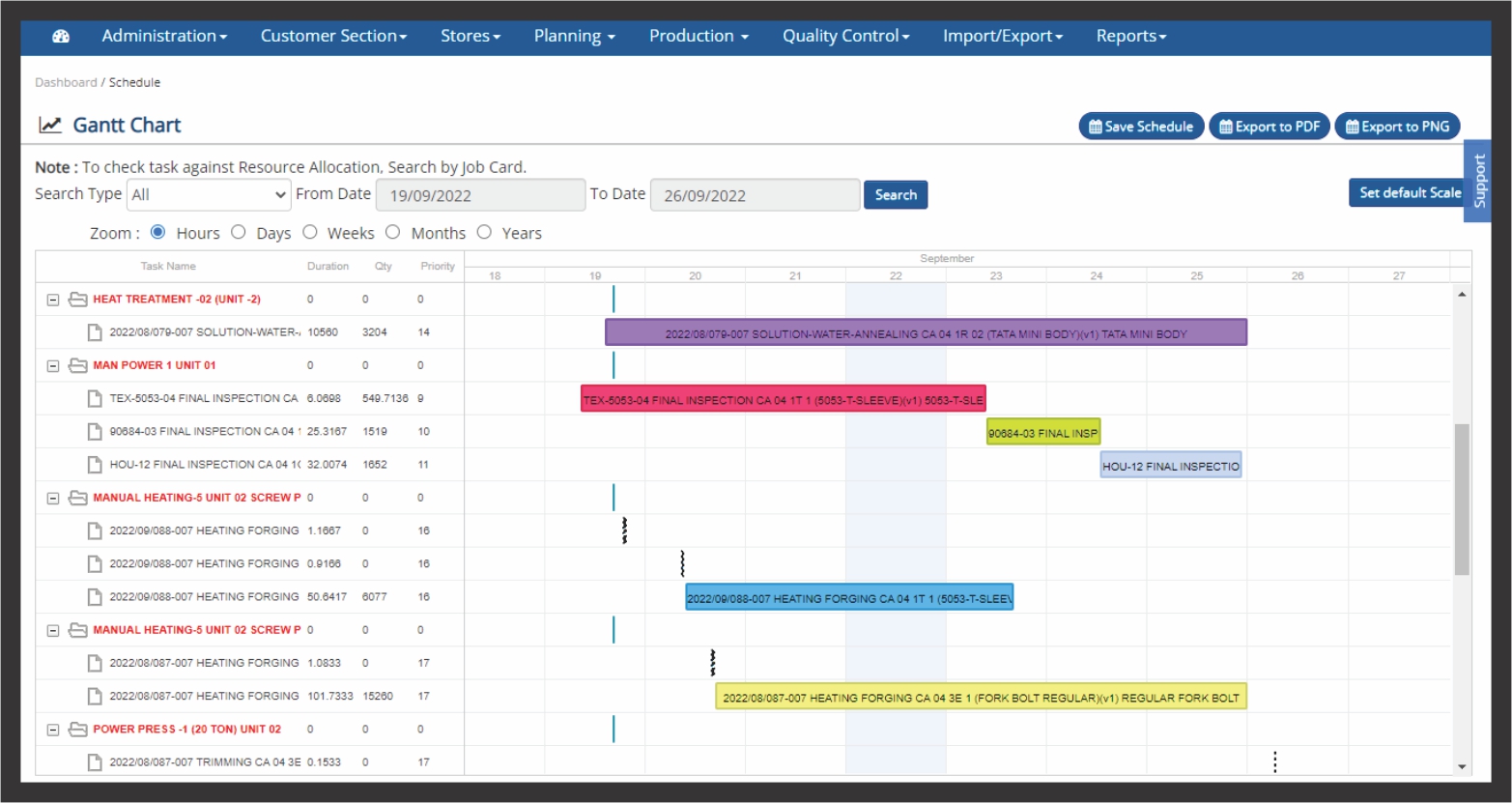 Order Processing
Define how to process an Order in the platform.
Configure machine and vendor capacities for the component and assembly products.

Advance Planning & Scheduling
Plan and schedule number of orders while taking care of factors influencing execution of the scheduled plan.
Provide order priority to each job card and get expected completion date which is realistic and achievable.

MIS Reports
Order Planning reports like Daily Schedule, Sales Plan and Commitment Report, Machine Load Plan report, etc.
Analytical reports like Estimated Order Completion, Order Status Report, Machine wise WIP, etc.

Shop Floor Control
Obtain daily schedule plan for the machine and release it on shopfloor.
Perform Hold / Unhold / Split actions for job cards as per the customer demand.
Take the active control of managing dynamic needs and effectively update the shopfloor production plan.